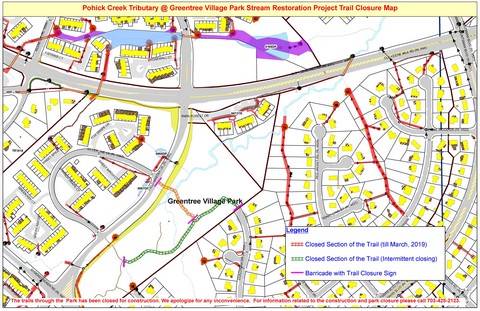 Restoration work on the Pohick Creek Tributary located within Greentree Village Park is set to begin shortly.  The Fairfax County Stormwater Planning Division and Utility Design & Construction Division have contracted with Environmental Quality Resources, LLC for the work which will start in January 2018. Greentree Village Park is located at 6600 Field Master Drive in Springfield, VA.  
The project involves restoration of approximately 2,900 linear feet of the highly degraded tributary of Pohick Creek from Field Master Drive to Old Keene Mill Rd using natural channel design techniques. The primary goal of this restoration is to stabilize the channel and prevent future erosion and degradation along the stream. Restoration of native trees and herbaceous planting will also be implemented after construction in order to promote natural reforestation which ensures the development of a healthy ecosystem. This project is part of Fairfax County's larger efforts to restore many of the county's degraded streams while also improving overall water quality and the condition of the Chesapeake Bay.
The project's main construction access will be off of Field Master Drive. The proposed work will impact a good portion of this park's trail network and includes replacement of an existing pedestrian bridge. Temporary closure of this trail will be implemented to ensure public safety.  Active construction will conclude in March 2019. For more information please contact Project Manager Yudhie Brownson at 703-324-8511.