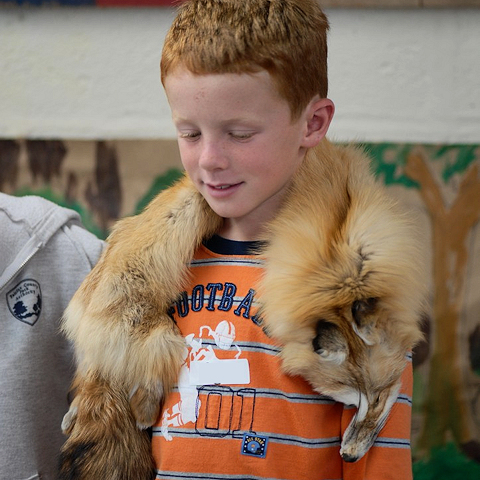 Though it may be cold, the opportunities for your littlest learners continue at Ellanor C. Lawrence Park through History Tots, Nature Tots and our newest offering, Outdoor Kids. Monthly programs in January, February and March allow your youngest will stay active and explore our winter wonderland. Each program costs $6 in-county or $8 out-of-county.
History Tots is for youngsters ages one to three and occurs the second Wednesday of each month, at 9:45 and 11 a.m. In this program, your child will explore history through sight, sound, taste and touch. Topics vary by month. Winter topics are toys in January, tools in February, and farm animals in March. Can't make a weekday? New this winter, we are offering a Saturday morning class. History Tots meets January 10, February 7 and March 7 at 9:45 and 11 a.m, and January 13, February 10 and March 10 at 10 a.m.
Nature Tots occurs the third Wednesday of each month at 9:45 and 11 a.m. and gives your child a chance to explore the great outdoors. Topics vary by month and are snow and ice in January, wind and mud in February, and signs of spring in March. The winter dates for Nature Tots are January 17, February 14 and March 14.
Too old for our tots program? Our newest offering Outdoor Kids encourages children ages four to six to explore different habitats, trails, wild animals and wild places. Outdoor Kids is held the first Sunday of each month (January 7, February 4 and March 4) at 2 p.m.
For more information call Ellanor C. Lawrence Park at 703-631-0013 or visit online at Ellanor C. Lawrence Park. Ellanor C. Lawrence Park is located at 5040 Walney Road in Chantilly VA.