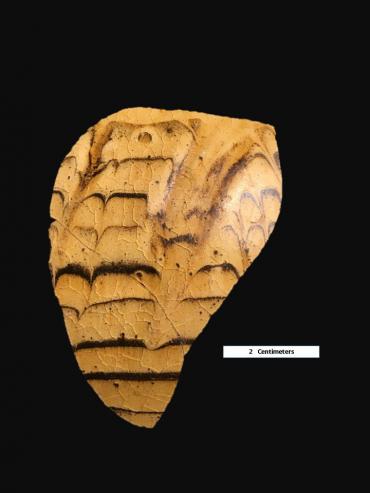 Ceramics often stand the test of time and provide clues into the lives of the people who used them. This month, the Fairfax County Park Authority's artiFACTS series takes a look at a type of ceramic dishes, bowls and mugs known as "slipware."
The Staffordshire Slipware that can be found in the county's archaeological collections was widely exported to America through the late 1700s. Elaborately decorated styles of slipware can still be found at American archaeological sites today. Get the details by clicking on the Park Authority's artiFACTS website.
Each month, artiFACTS highlights an item from the Park Authority's vast collection of historic treasures. The collection includes more than 5,000 objects, such as quilts, chairs, baskets, machines, and clothing; thousands of archival items, such as photographs, letters, maps, and other documents; and upwards of three million artifacts that include archaeological finds, such as spear points and pottery. From glass fragments, to clothing to furniture, the items tell the story of our region's past.
For more information about the Park Authority's Museum Collections, contact Heritage Resource Specialist Megan Leining at 703-631-1429 or at megan.leining@fairfaxcounty.gov.