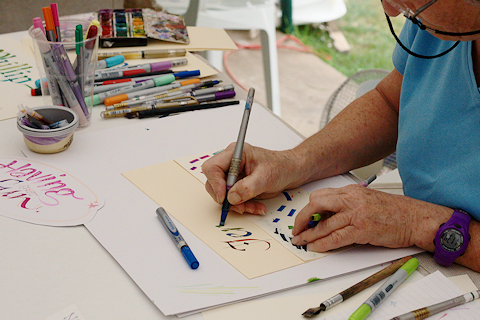 In honor of Huntley residents who loved both books and art, Historic Huntley is offering three classes this winter that delve into different aspects of book making.
The series kicks off on Sunday, January 28, 2018, with a class on calligraphy. Explore the art of beautiful writing with a variety of pens and brushes from 1 to 2 p.m. Calligrapher Mary Teichman calls calligraphy "a great antidote to modern life."
In February, the focus is on the paper used in book making. This session runs from noon to 1 p.m. on Sunday, February 11. The series wraps up on Saturday, March 17, with a session on book bindings from 10 to 11 a.m.
Each session costs $7 per person. Register for one, two or all three.
Register for The Art of the Book
Historic Huntley is located at 6918 Harrison Lane, Alexandria, VA, near the entrance to Huntley Meadows Park. For more information, call the park at 703-768-2525 or visit Historic Huntley .