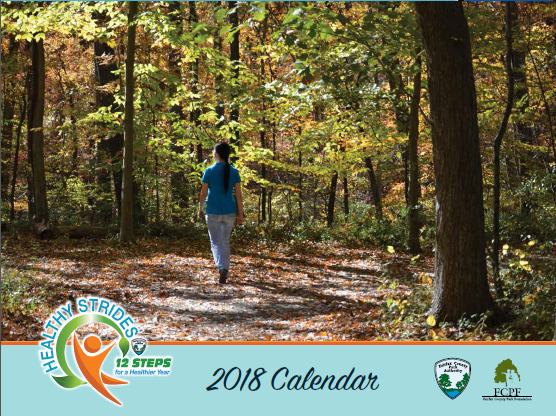 The new year has so much promise. In fact, 2018 is shaping up to be the best year yet for Healthy Strides, the Park Authority's recently-renamed community wellness program. Healthy Strides, formerly Take 12 Steps for Health, began in 2010 with the basic premise that better health can be achieved by reaching small goals, one per month, for the whole year. Healthy Strides takes a holistic approach to wellness by including not only healthful eating, physical activity, and sleep in its monthly goals, but also sees sleep, social interaction, relationships, safety, volunteerism and outdoor recreation as key parts of a healthy lifestyle. Each monthly step can be found in the Healthy Strides 2018 wall calendar, which is available for download online or at various Fairfax County locations (RECenters, Community/Senior Centers, Libraries), while supplies last. These calendars are free.
There are so many ways to participate in the Healthy Strides program this year! Start by grabbing a Healthy Strides calendar and complete the monthly steps – this is your guide for making simple, impactful changes to your own health!
Get informed when you visit Healthy Strides online filled with articles and tips for the month.
Answer the monthly Trivia Question to be in the running for a cool wellness prize!
Get Social and show us what healthy stuff you're up to in Fairfax County with #HealthyStrides on Facebook (@fairfaxcountyparks), Twitter (@fairfaxparks) and Instagram (@fairfaxparks).
Read the wellness book of the month and share your thoughts at the Healthy Strides Wellness Book Club, which meets monthly at rotating Fairfax County Library locations.
Subscribe to the e-newsletter to stay updated with latest Healthy Strides events, information.
Attend free wellness workshops and events at various FCPA RECenter locations.
For more information, visit Healthy Strides. You may also contact the Wellness Coordinator and Healthy Strides Program Manager, Elizabeth Ittner at elizabeth.ittner@fairfaxcounty.gov.