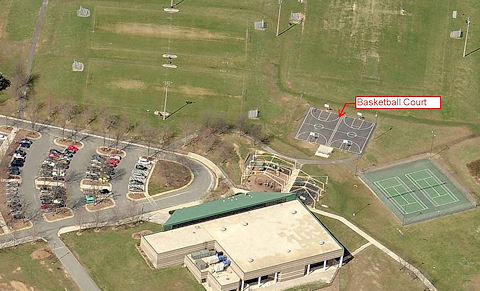 The Fairfax County Park Authority (FCPA) will improve the basketball court at South Run District Park by replacing aging and outdated court lighting. This Park Authority Energy Improvement Plan project includes new, energy efficient, LED court lighting at a cost of $112,000. Saving energy has benefits for our environment, saves money and will offer local basketball enthusiasts a better on-court experience.
Work on this project will begin in mid-February and will conclude approximately one month later. The basketball court will close on February 19, 2018. The basketball lighting project includes upgrade of the electrical service shared by the tennis courts. Tennis courts will remain open for the duration of the project, though lighting will be unavailable from February 26, 2018 through March 9, 2018. South Run Park is located at 7550 Reservation Drive in Springfield.
For more information on energy management in Fairfax parks, visit our blog, Energy Management in Parks: We're saving resources, your money, and Earth
For more information, contact Project Manager Mohammad Mahboob at 703-324-8744.