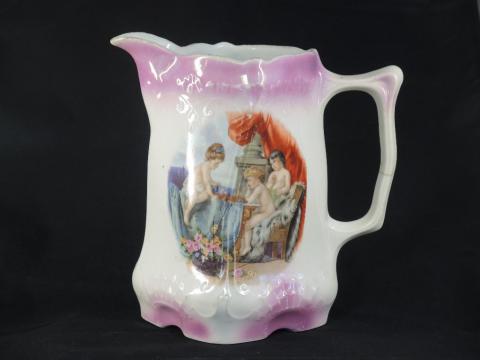 Will the gifts you give this holiday season stand the test of time? Discover how one gift that was given to a Christmas Day bride continues to hold a special place in county lore.
Click on the Fairfax County Park Authority's artiFACTS website this month to learn about a sister's wedding gift in 1906 that now resides in the county's historic collection. The item provides a glimpse into popular gifts from more than a century ago and offers a lesson on the artistry of the period. Go to artiFACTS to learn more about the pink lustreware milk pitcher with ties to Colvin Run Mill.
The Park Authority's collections include more than 5,000 historic objects, such as quilts, chairs, baskets, machines, and clothing; thousands of archival items, such as photographs, letters, maps, and other documents; and upwards of three million artifacts that include archaeological finds, such as spear points and pottery. All come with their own stories to tell. artiFACTS showcases a small sampling of these treasures to educate, enlighten and entertain.
For more information about the Park Authority's Museum Collections, contact Heritage Resource Specialist Megan Leining at 703-631-1429 or at megan.leining@fairfaxcounty.gov.