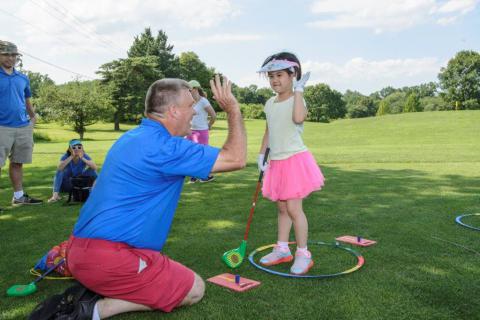 There is a class for everyone this spring at Fairfax County Golf courses: from children new to golf to experienced golfers who want to improve their game. Golf is an excellent family sport and can be played for a lifetime!
Golfers or all ages and skill can take advantage of classes at Burke Lake Golf and Pinecrest Golf Academies. Starting New at Golf (SNAG) classes cover basic golf elements in a modified form for ages 5-8. Children have fun using larger and more colorful clubs to increase confidence and coordination. Various levels teach children the fundamentals of golf and continue to foster their golf game growth as they move up in age and skill set. Juniors (ages 7-17) can join in on the fun with Junior Get Golf Ready I or II or learn as a family with parent/child classes. Adult programs include Get Golf Ready, Taking it to the Course, Golf-Trouble Shot and ladies classes.
Additional classes are also offered at Oak Marr Golf Center through Everybody Golf School.
Registration for spring golf classes is now underway.
Register for Spring Golf Classes
For more information visit Park Authority Golf.