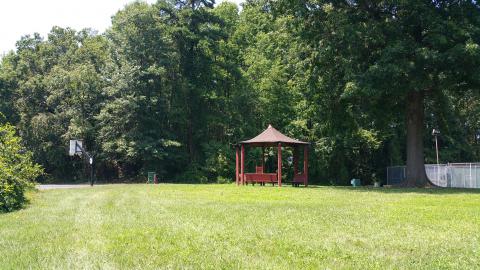 The Fairfax County Park Board has approved a major renovation plan that includes a new playground area, picnic shelter and tennis court at Backlick Park in Annandale, VA. Approval came in late January as construction plans began to take shape.
Under the plan, the park's existing playground will be removed and replaced with separate playgrounds for children in the 2-5 and 5-12 age groups. The park's entrance sign, parking area and tennis court will be renovated, and new fencing will be installed around the tennis court. The existing gazebo will be removed and a new picnic shelter will be installed near the playground area. Current fitness stations will be removed and new fitness equipment will be consolidated in one area near the park's entrance. As part of the renovation plan, the accessibility of all asphalt trails will be enhanced and all benches and picnic tables will be removed and replaced.
Backlick Park was master-planned in 1978, and its facilities were constructed primarily in the
early 1980s. Most of the funding for the $1,092,000 renovation will come from the 2016 Park Bond. Construction is expected to begin shortly after completion of the initial design and permitting phases.
For more information, please contact the Public Information Office at 703-324-8662 or via Parkmail@fairfaxcounty.gov.