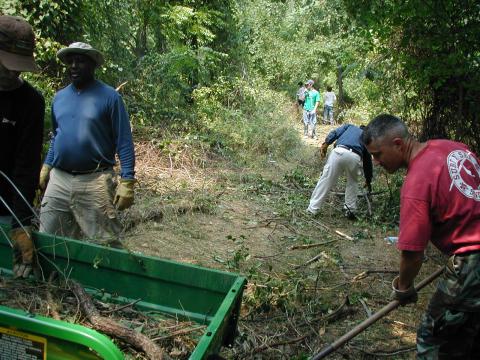 The Fairfax County Park Authority continues its national award-winning program to combat invasive plants this spring.
The Invasive Management Area (IMA) program was established in 2006 and the annual highlight of the program is the spring Take Back the Forest effort. This year, Take Back the Forest begins on Sunday, April 1, 2018 and runs through May. During that timeframe, the Park Authority will seek volunteers to remove non-native invasive plants from parkland and replace them with native plants.
The Park Authority has many volunteer opportunities available during April and May. More information about the program and becoming an IMA volunteer is on the Park Authority's IMA page. Take Back the Forest coincides with national volunteer days such as Earth Day, National Volunteer Week, Potomac River Watershed Cleanup Day and Arbor Day.
Since the IMA stewardship effort started in 2006, 18,250 volunteers have spent 61,266 hours battling non-native plants during nearly 3,000 workdays. Volunteers have removed more than 11,700 bags of invasive plants. Thousands of native species have been planted. There are currently over 55 active IMA sites across the county.
For additional questions or more information, contact Erin Stockschlaeder at 703-324-8681.