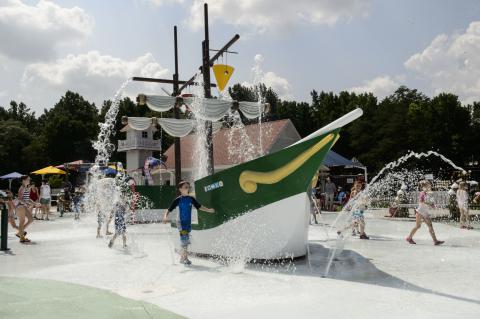 The Lee District Family Recreation Area will be honored by National Association of County Park and Recreation Officials (NACPRO) when the organization holds its annual meeting in Nashville this July. This unique fun spot for families will receive a 2018 NACPRO Award in the Park & Recreation Facility category for agencies with a population service area over 500,000.
The Fairfax County Park Authority facility provides fully accessible play features that allow children of all abilities to play together. It features Our Special Harbor sprayground, an accessible Tree House, Chessie's Big Backyard playground, a carousel with a Chesapeake Bay theme, and Chessie's Trail, an interactive trail designed especially for kids.
"This project was possible in large measure to the generosity of donors who helped support each and every innovation and amenity, successful acquisition of grants, and the cooperation of our Planning and Development Division and availability of tax-payer approved park bonds," said Park Authority Director Kirk Kincannon. "It goes without saying that we depended on the support of elected officials, the Park Authority Board and the Park Foundation Board."
More than 80,000 people enjoy Our Special Harbor every summer thanks to the help of the Joey Pizzano Memorial Fund, which has been supporting county parks for 20 years through contributions to the Park Foundation. This year, the organization is adding four new attractions to the water playground to help celebrate its 20th anniversary.
"We are an immensely proud partner of Paola and Bob Pizzano, founders of the Joey Pizzano Memorial Fund in loving memory of their son, Joey. The popular Our Special Harbor sprayground inspired Chessie's BIG Backyard play area featuring the JPMF Wave feature," said Park Foundation Executive Director Bobbi Longworth. "Hundreds of individuals combined modest donations totaling $10,000 to dedicate 'Soar,' the Chessie's Carousel Eagle as an expression of appreciation for JPMF's outreach through Fairfax County parks. This well-deserved NACPRO award is timely as a new lighthouse and other exciting water features are added on this special anniversary."
"The Joey Pizzano Memorial Fund is proud of our public-private partnership with Fairfax County that allows families free access to Our Special Harbor and to wonderful activities for children and adults of all abilities," said Paola Pizzano. "The community of support that has grown around the park and for the children and families of individuals with disabilities in general is a great example of what is possible when we find ways to work together. And a wonderful tribute to our son Joey and kids like him."
NACPRO is a non-profit professional organization that advances official policies that promote county and regional park and recreation issues while providing members with opportunities to network, exchange ideas and best practices, and enhance professional development.
For additional information, please contact the Public Information Office at 703-324-8662.