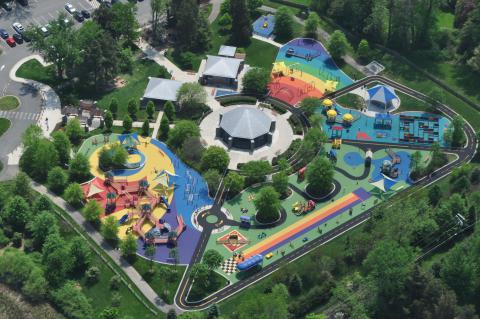 Giving credit where credit is due is the order of the day at Clemyjontri Park in McLean, Virginia when officials and local philanthropists, civic organizations, supporters and Park Authority staff will gather to celebrate the completion of new amenities at this popular park.  On Saturday, July 28, 2018, at 10 a.m. the public is invited to brief ribbon cutting ceremonies as the new trackless train and picnic shelter/celebration area are dedicated.
Clemyjontri Park features a unique playground where children of all abilities can play side-by-side. It is a playground where every child is welcome. This park is a place where children who use wheelchairs, walkers or braces, or who have sensory or developmental disabilities, can have a parallel playground experience of fun and exploration.
Representatives from the McLean Community Foundation, Rotary Club of McLean and the Friends of Clemyjontri Park will be recognized for contributing to the Fairfax County Park Foundation which helped to bring the birthday party/picnic celebration area to reality.
Friends of Clemyjontri will also be recognized for funding the Trackless Train and a forthcoming "train station." 
Others that will be recognized include Wheat's for their contributions of landscaping for the park over several years, McLean Project for the Arts for the redesign and painting of the Clemyjontri Book statue as well as friends and family of Sue Rowell, a longtime contributor to the park. 
Remarks will be offered by local officials and contributors, a ribbon will be cut, train rides will be provided and light refreshments served.  For more information regarding the ceremony, please contact the Public Information Office at 703-324-8662.
For more information about the park visit Clemyjontri.  For more information about the Park Foundation visit Fairfax County Park Foundation.