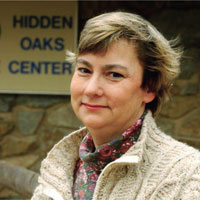 A natural history interpreter from Hidden Oaks Nature Center in Annandale, Virginia, is being honored by the National Association for Interpretation (NAI). To celebrate its 30th anniversary, the organization is recognizing 30 Shining Stars of Interpretation in 2018, and Hidden Oaks Visitor Services Manager Suzanne Holland has been added to the prestigious list.
Each of NAI's 10 geographical regions determined three shining stars – a new interpreter, an established career interpreter, and an esteemed veteran – to represent the region and receive one of NAI's 30 for 30: NAI Shining Star Awards. Holland was chosen as NAI Region 2's Shining Star in the Veteran Category.
"Those of us who've worked with her daily or with projects, or who've had the privilege to have been one of her interpretive students through NAI, have known Suzanne was our interpretive 'secret weapon' here at Hidden Oaks," said Hidden Oaks Manager Michael McDonnell. "This is quite an honor, and we are proud to call her our colleague."
Holland is credited with increasing programming and visitation at the Fairfax County Park Authority site. She was the driving force behind the Nature Playce exploration area, helped to secure funding to provide free programs targeting underserved communities, and conducts training programs for other interpreters. A description of Holland's work and her photo are on display on the NAI website. In addition, in recognition of her excellence in interpretation, Region 2 is awarding Holland a $100 credit to be used toward NAI national or regional workshops or trainings.
Hidden Oaks Nature Center is located at 7701 Royce Street, Annandale, VA. For more information, call 703-941-1065 or visit Hidden Oaks Nature Center.