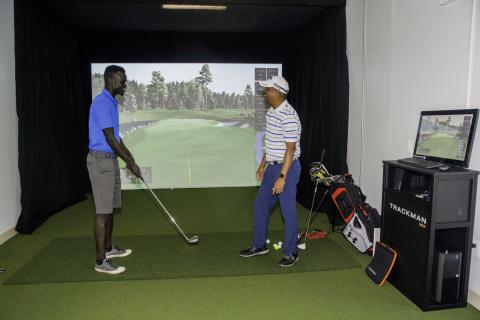 There are lots of golfers who would love to improve their game.  With that in mind, the Fairfax County Park Authority's Pinecrest Golf Course in Alexandria will open a newly-renovated indoor training facility known as the Valis Family Golf Learning Center.  The center is named for Wayne and Angela Valis who provided funding for the center's new TrackMan 4 Golf Simulator. 
The updated facility's expanded hitting bays and golf simulator allow for enhanced, year-round practice and play opportunities. Additional upgrades include improved lighting and more natural light via skylights and windows. The project was funded through a variety of sources, including Park Bonds, grants, and private donations.
According to Fairfax County Park Foundation Director Roberta Longworth, "The Valis family has a strong connection to this course and a history of generosity in terms of donations and volunteer service over many years.  We are so pleased with this latest example of giving back to the community."
The public is invited to celebrate at a ribbon cutting ceremony on Saturday, September 15, 2018 at 11:30 a.m. at Pinecrest Golf Course located at 6600 Little River Turnpike, Alexandria, VA. Following brief remarks, guests can tour the facility and try their hand at the simulator. Refreshments will be served.
Due to limited parking, please plan to carpool, if possible.  For planning purposes, an RSVP is requested by September 10 at 703-324-8702 or to Parkmail@fairfaxcounty.gov  For more information please contact the Public Information Office at 703-324-8662.