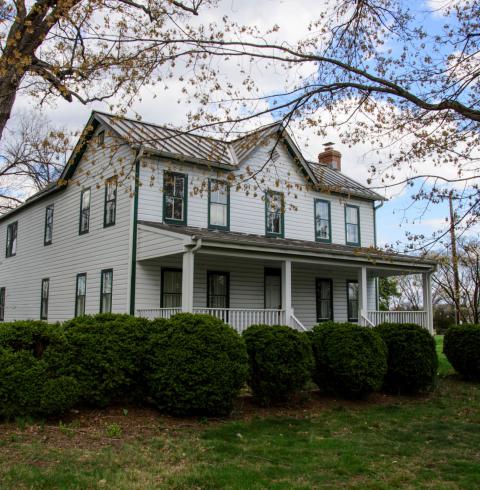 The Fairfax County Park Authority (FCPA) is reopening the historic Ellmore Farmhouse property, at 2739 West Ox Road, Herndon VA, for the Resident Curator Program. Previous efforts to find a qualified curator for this property were not fruitful and applications will be considered once again. 
The Resident Curator Program provides the unique opportunity for individuals, non-profit and for-profit organizations to secure long-term lease agreements in beautiful public park settings such as Frying Pan Farm Park in Fairfax County. The curator leases are without charge in exchange for a financial commitment towards approved rehabilitation of the Park Authority's underutilized historic properties. Curators are determined through an open and competitive application process, based on a number of criteria, including a formal proposal, demonstrated experience, competency in historic preservation techniques, financial capabilities, and the incorporation of public benefits.
An open house for Ellmore Farmhouse will be hosted on Saturday, October 13, 2018 from noon until 3 p.m.  Attendees can tour the house and its grounds. Parking is available on site.
The Ellmore Farmhouse is a two-story, 3,300-square-foot property located on West Ox Road in Herndon, Virginia. The farmhouse was constructed principally of yellow pine in 1891 for Mrs. Mary W. Ellmore and her two children. Members of the Ellmore family occupied the property for more than 50 years, operating a productive dairy farm there through 1945, when the property was sold. William Ellmore, who ran the property as a dairy farm, was a prominent local politician, serving on several boards including the County Board of Supervisors until his death in 1935. The successive owners continued to operate a dairy farm until selling the farm in 1954.  In February 2001, the Fairfax County Park Authority purchased the property for inclusion in Frying Pan Farm Park.
The Ellmore farmhouse is listed as a contributing structure within the Floris Historic District. The district was listed on the National Register of Historic Places and the Virginia Landmarks Register on August 12, 2010 by the Virginia Department of Historic Resources. In addition, the Ellmore farmhouse is a contributing structure within the Floris Historic District on the Fairfax County Inventory of Historic Sites.
For additional information visit Resident Curator Program. Or contact Stephanie Langton, manager of the Resident Curator Program at 703-324-8791.