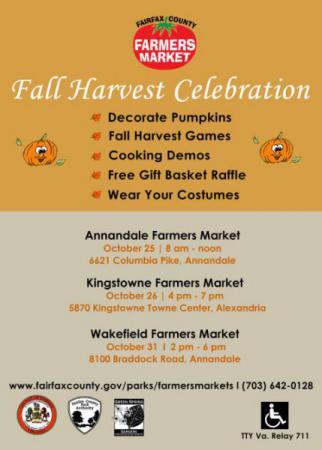 As we embrace the first autumn breezes of the season, the Fairfax County Farmers Markets will be hosting a Fall Harvest Celebration at three market locations. Fall marks one of the most abundant times of the year.  Fall favorites like pumpkins and apples will start rolling into season. Kids are invited to paint pumpkins, play fall harvest bingo, and show off their costumes. In celebration of the bountiful fall season, we will have a free gift basket raffle and host healthy cooking demonstrations by local chefs. Join in the tasty fun at Park Authority farmers markets!
Thursday, October 25
Annandale Farmers Market
Mason District Park, 6621 Columbia Pike, Annandale, 8 a.m.-noon
Friday, October 26
Kingstowne Farmers Market
In the Giant parking lot, 5870 Kingstowne Towne Center, Kingstowne, 4 p.m.-7 p.m.
Wednesday, October 31
Wakefied Farmers Market
Wakefield Park, 8100 Braddock Road, Annandale, 2 p.m.-6 p.m.
This activity is free and open to the public, but supplies are limited. Our markets are strictly producer-only meaning that our vendors must grow or make from scratch everything they bring to market. This gives customers the unique opportunity to ask farmers directly about their growing methods, animal welfare practices, and more.
For a Produce Guide of harvest times please click here.  
For information, including locations, directions and a list of vendors go to Farmers Markets or call the  Community Horticulture Office at 703-642-0128.