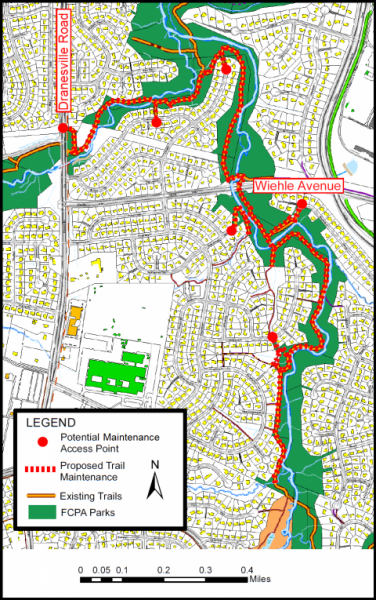 The Sugarland Run Stream Valley Maintenance Project is about to begin.
The Fairfax County Park Authority will soon begin maintenance work on the existing trail in Sugarland Run Stream Valley Park in Herndon, VA. The contractor, Tibbs Paving, Inc., will be mobilizing on site in mid to late November. The mill and paving of approximately 12,000 linear feet of existing asphalt trail is planned.
Contingent on the weather, this project will continue throughout the fall with completion anticipated in spring 2019 (approximately six months). Residents should expect occasional traffic at the maintenance access points to facilitate the passage of milling and paving materials and equipment. As a safety precaution, portions of the existing trail will be closed to users during the project.
For more information, please contact the Project Manager, Ed Deleon at eduardo.deleon@fairfaxcounty.gov or 703-324-9569.