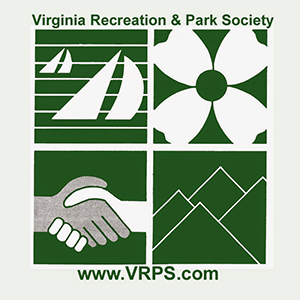 The Fairfax County Park Authority (FCPA) brought home three awards from the Virginia Recreation and Park Society's (VRPS) annual conference in November. The agency was honored for a new children's trail, photography, and distinguished service from an FCPA volunteer.
VRPS's statewide awards program honors individuals, departments and organizations throughout Virginia who have demonstrated excellence during the previous year.
Chessie's Trail received the organization's award for Best New Facility Parks, Playgrounds, Blueways, Greenways and Trails in a population area greater than 100,000. This 2,160-foot, child-friendly trail was the final element to be added to the extensive Lee District Park Family Recreation Area, which also includes an accessible tree house, carousel, playground and sprayground. Chessie's Trail was designed for children of all abilities and includes features such as a sound garden, spinning rocks and a unique nest seating area. Along the trail, visitors encounter a variety of wildlife figures that can be found in the Chesapeake Bay region.
A photo of a dog taking a dip at the Water Mine during the end-of-season 2017 Dog Daze event was honored in the category of Snapshot Moment in a population area greater than 100,000. The snapshot was captured by Deputy Public Information Officer Cristin Bratt, who put her cell phone into a waterproof camera case and attached it to a selfie stick that she could hold over the water to get a dog's-eye view of the event.
Shannon Dart received the Distinguished Volunteer Service Award for her work at Huntley Meadows Park. Dart has helped monitor amphibian species and vernal pools in the park and shares her broad knowledge of wildlife biology with visitors as a front desk Volunteer on Duty. She was honored for the tremendous support she provides to staff and for sharing her passion for the natural world with site visitors.
The mission of VRPS is to unite all professionals, students, and interested lay persons engaged in the field of recreation, parks, and other leisure services in the Commonwealth of Virginia. Its 63rd Annual Conference was held in Richmond, Virginia.
For more information, contact the Public Information Office at 703-324-8662 or send an email to parkmail@fairfaxcounty.gov.