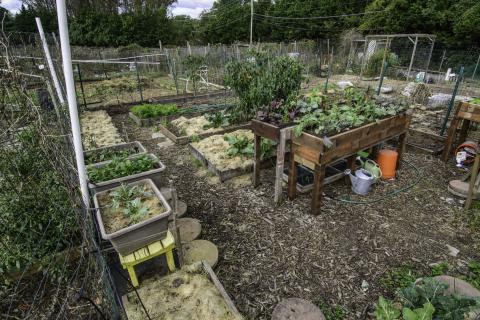 The Fairfax County Park Authority Board has approved a Mastenbrook Volunteer Matching Fund Grant Program request from the Herndon Environmental Network (HEN) for $20,000 to develop community garden plots at Bruin Park. Action came at the Board meeting on November 14, 2018.
Plans for the gardens date back several years. In January 2014, the Master Plan for Bruin Park was amended to allow for community garden plots. In April 2017, a Memorandum of Agreement was entered into between the non-profit HEN organization, the Town of Herndon (which owns Bruin Park), and the Park Authority (which maintains Bruin Park), that authorized HEN to develop, manage and maintain community garden plots at Bruin Park.
HEN will use the grant money to help develop garden plots on the west side of the tennis courts at the park. Plans call for 40 plots, fencing to protect the plots, and ADA compliant trails. The improvements are all being built to Park Authority standards, and the total project budget is $42,496.22. The Mastenbrook grant money will be combined with a $7,966.06 cash contribution and $14,530.16 in in-kind donations from HEN to complete the project.
Since 1999, there have been more than 170 Mastenbrook Grant projects with awards of approximately $1.6 million. The grants have gone toward projects in Fairfax County valued at more than $10.6 million.
For more information, or to apply for a matching grant, visit Mastenbrook Grants or call 703-324-8591.