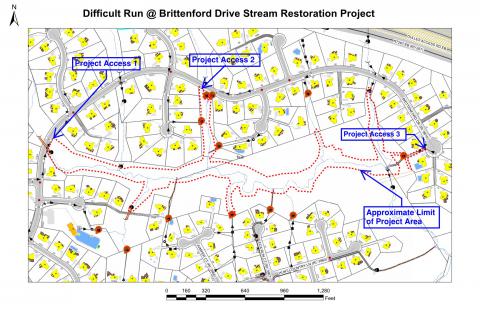 The Park Authority's most popular amenity is trails. Residents love to use local trails for hikes, or running, family outings or a walk with the dog. However, despite their popularity, sometimes we need to close or restrict access to a trail for construction or maintenance activities.
Stream restoration within Difficult Run Stream Valley Park, just off Brittenford Drive, is set to begin in mid-December. The project involves the restoration of approximately 5,500 linear feet of Difficult Run Tributary. The Fairfax County Department of Public Works and Environmental Services has contracted with Environmental Quality Resources, Inc. for the construction. The trail system within the project boundaries will be closed for the duration of the project to ensure public safety. Active construction completion is anticipated by spring 2020.
More information of the project can be found at Difficult Run Tributary Stream Restoration Project. For more information, contact Project Manager Bel Pachai at 703-324-5029.