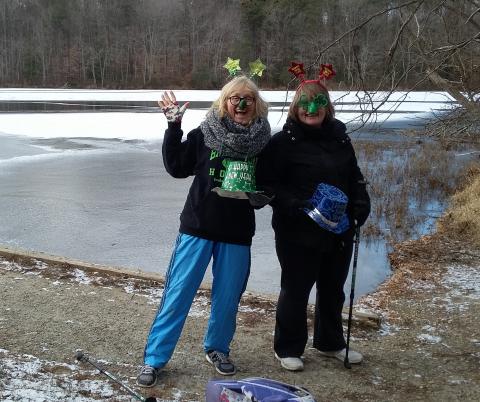 Start the new year off right by exploring trails in Fairfax County! The Fairfax County Park Authority's First Hike Fairfax returns with expanded hike options and photo contest prizes for your New Year's Day hike.
On January 1, the Fairfax County Park Authority is joining with America's state parks and Virginia State Parks for First Day Hike Programs to encourage everyone to start 2019 with an outdoor hike. Last year, thousands of people rang in the New Year with hikes throughout the country, including right here in Fairfax County.
It's easy and fun. Visit any Fairfax County Park Authority trail on January 1, 2019. Pick your favorite photo to enter into the Fairfax County Park Authority's First Hike Photo Contest by January 2. All photographers will receive two free RECenter guest passes and will be eligible to win one of two prizes: Park Authority staff will select a "Judges' Choice" and the general public will vote on a "People's Choice" winner. Both winners will receive a free four-month RECenter pass valued at up to $300.
We've picked five family-friendly starter hikes at some really great parks in Fairfax County. Visit First Hike Fairfax for more info. This year, you're also invited to head outside to any other Fairfax County Park Authority trail for your hike. Information on Fairfax County trails may be found at Trail Buddy.
The contest is open to amateur and professional photographers. Limit one photo entry per person. Photos must be JPG, JPEG or PNG format. Entrants may be asked to verify that the hike took place on a Fairfax County Park Authority trail on January 1, 2019. Full contest rules and a link for photo submission will be available at First Hike no later than December 28, 2018.
First Hike Fairfax kicks off the Park Authority's Healthy Strides 12 Steps for a Healthier 2019, a year of healthy living ideas for you and your family. For more fresh ideas, visit Healthy Strides and sign up for the e-newsletter with monthly tips to get you and your family energized.