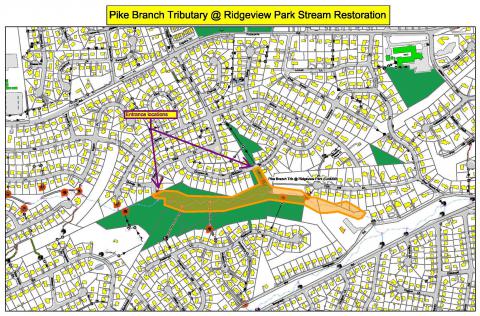 Stream restoration work is getting underway in Ridgeview Park, located off Ridge View Drive and Duvawn Street in Alexandria, Va.
The project involves the restoration of approximately 2,800 linear feet of Pike Branch Tributary, and parkland within the project boundaries will be closed for the duration of the project to ensure public safety and the safety of workers. The playground area off of Duvawn Street will not be impacted and will remain open to the public.
The Fairfax County Department of Public Works and Environmental Services has contracted with Avon Corporation for the work, which is scheduled to begin in late December. Active construction is expected to be complete by spring 2020.
Project details can be found at Pike Branch Tributary Stream Restoration Project. For additional information, contact Project Manager Fred Wilkins at 703-324-5189.