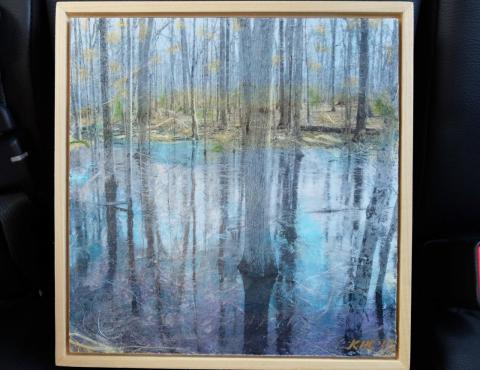 Slip into a gauzy world of collage and photography at Huntley Meadows Park. The park will host the work of Alexandria-based artist Kathryn Coneway from March 3 to May 31, 2019, in the Norma Hoffman Visitor Center.
Coneway's mixed-media art combines collage and photographic transfers, and it expresses her observations of nature. She uses mulberry paper to create a ground of color and texture. The paper is thin, and colors mix as they overlap. An acrylic seal creates the impression of a painting made with paper. Black and white images transferred over the collage add depth and detail. The transfer process is unpredictable, and surprise is common as images layer over fields of color.
Coneway taught an art class at Huntley Meadows in January and February, and some of her students also will show pieces in the park's visitor center.
The exhibit's opening reception is Sunday, March 10, from 2 to 4 p.m. Entry to the visitor center and the exhibit is free. Visitor center hours are on the park's website at Huntley Meadows Park.
Huntley Meadows Park is located at 3701 Lockheed Blvd in Alexandria, Va. For more information, call the park at 703-768-2525.