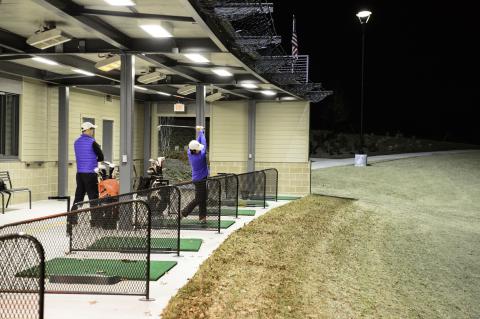 Tee up a glow-in-the-dark ball for a fun twist on the typical golf tournament at Laurel Hill Golf Club and the Burke Lake Golf Center.
It will be "ready, set, glow!" as Laurel Hill hosts "Night Golf 9 + Dine + 9" on Saturday, September 14, 2019. Experience Laurel Hill's top-rated course with a memorable event for friends and family. Kick off the evening with the front nine at 4 p.m.; break for dinner, beer and wine, served by Chef Edisson; and then play the back nine under the stars from 7:30 to 9 p.m. There will be glow-in-the-dark golf balls, flag sticks, bunkers and fairways. This event is limited to the first 15 foursomes to sign up. First come, first served. The costs are: Member Guests, $60; Public, $75; Members, $50; and Dine Only, $35.
To register, email or call Ryan Carmen at ryan.carmen@fairfaxcounty.gov or 703-493-8849, extension 2218. You can also register at the Pro Shop until September 10, if spots are available.
View Night Golf 9 + Dine + 9 Event
Laurel Hill Golf Club is located at 8701 Laurel Crest Drive, Lorton, VA. For more information, call 703-493-8849 or visit Laurel Hill Golf Club.
For more nighttime golfing fun, register for one of the "Shot in the Dark Nite Tournaments" at Burke Lake Golf Center on Friday, October 4 or October 11.
In these tournaments, teams of two play a nine-hole scramble using glow-in-the-dark balls. The competition begins at 7:30 p.m. Prizes will be awarded to teams finishing first, second and third, and there will be closest-to-the-pin contests, too. Dinner will be served, beginning at 6 p.m.
The cost is $70 per team, and golfers must be age 12 to adult. The price includes one glow ball and a flashlight. Additional glow balls are $5 each. Registration begins 30 days before the event and is limited to the first 18 teams. The rain date is October 13.
View Shot in the Dark Nite Tournaments
Burke Lake Golf Course is located at 7315 Ox Road, Fairfax Station, VA. For more information or to register, call 703-323-1641 or visit Burke Lake Golf Course.