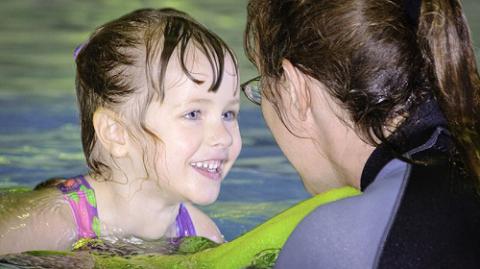 Build on your child's excitement from a summer at the pool by signing them up for fall swim classes!
Swim classes are more than just fun times in the pool, they can save lives. Every child needs to learn to swim. Communities are being advised by the American Academy of Pediatrics (AAP) to make water safety a No. 1 priority, as well as ensure that swim lessons are accessible for everyone as an essential life skill for children, teens and adults. Make sure your children know how to swim by registering them for a swimming class today.
The Park Authority offers one of the largest learn to swim programs in Northern Virginia providing swimming lessons and water safety instruction to approximately 30,000 participants each year. The learn to swim program received the Best of Aquatics "Best Programming" worldwide award by Aquatics International.
The Fairfax County Park Authority offers swim instruction for babies to teens at nine RECenters throughout the county. Adults join their children in the pool in the early years. Kids go solo and advance through different instruction levels as they get older. The Park Authority offers swim instruction for adults, too.
Winter swim classes begin Saturday, September 7, 2019. Choose the class that's right for your child:
Baby & Me Swim (6-18 months)
Toddle & Me Swim (19 mos.-2 yrs., 11 mos.)
Preschooler & Me Swim (3-5 yrs.)
Pee Wee Paddlers (3-7 yrs.)
Swimming for Children-Levels 1-6 (6-12 yrs.)
Stroke Mechanics 1-4 (6-15 yrs.)
Private and Small Group Lessons (all ages)
Find classes in Parktakes magazine or online.
For more information about the Park Authority's swim programs, call 703-222-4664 or visit RECenter Aquatics and Swimming.