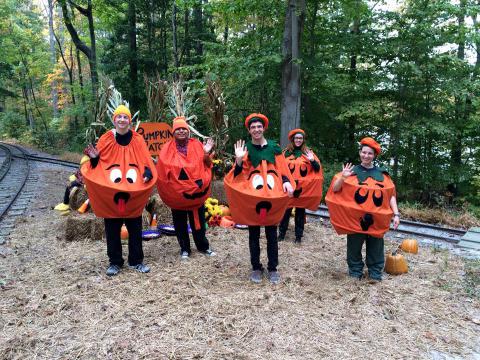 All aboard! The Burke Lake Park Ghost Train is looking for volunteers!
On October 26 and 27, 2019 volunteers will transform the Burke Lake Park miniature train ride into a family-friendly adventure for children and adults of all ages. Bring your favorite nursery rhymes to life, dress in silly (not scary!) costumes, help paint pumpkins, hand out candy and more! Volunteers give back to the community, help in the parks, and earn community service hours all while taking part in one of the area's favorite fall traditions.
Two volunteer interest meetings will be held at the Burke Lake Park Ice Cream Parlor, the first will be on October 16 at 6 p.m. and the second will be on October 21 at 6 p.m.
Food and drinks are provided for volunteers. Costumes are provided, please wear closed toe shoes and dress for the weather. Minimum age to volunteer is 14, however, youth volunteers ages 14 to 16 will need a registered parent/guardian volunteering with them. If you or your organization are interested in volunteering, please sign up at 2019 Ghost Train or call 703-323-6600 for more information.
Burke Lake Park is located at 7315 Ox Road, Fairfax Station, VA. For more information, call 703-323-6600 or visit Burke Lake Park.