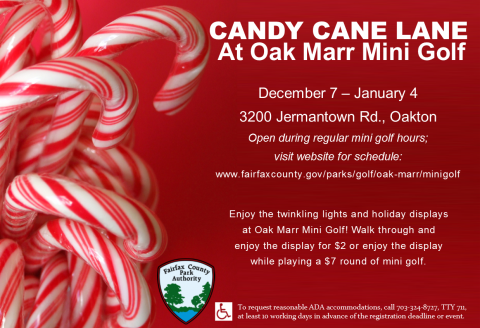 Oak Marr's Mini-Golf Course is taking on a new look this holiday season. It's being transformed into Candy Cane Lane!
Stop by and enjoy the wonderful lights and displays set up to delight visitors of all ages. Walk through and enjoy the display for $2 per person. Play a round of mini golf as you enjoy the display for $7 per person.
Candy Cane Lane is open during regular mini-golf hours from Saturday, December 7, 2019, through Saturday, January 4, 2020.
Oak Marr Mini-Golf is located next door to the Oak Marr Golf Complex at 3200 Jermantown Road, Oakton, VA. For more information, call 703-281-6501 or visit Oak Marr Mini-Golf.