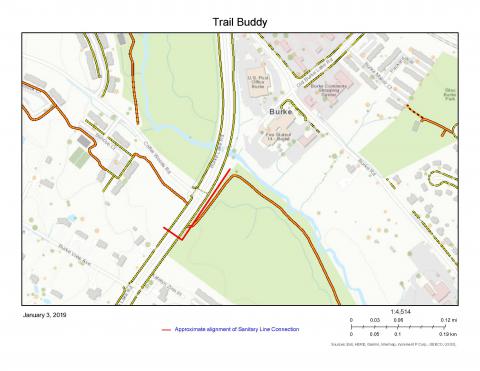 Housing construction may have an impact on the Pohick Stream Valley Trail during the months of February and March.
Madison Homes is set to begin the construction of Silas Station subdivision. As part of this development project, the proposed subdivision sanitary sewer line connection work will temporarily impact access to the Pohick Stream Valley Trail at the Burke Lake Road connection.
A temporary trail detour and/or realignment will be implemented, if necessary. However, long-term trail closure is not anticipated. The limit of the construction area falls within Virginia Department of Transportation-owned right-of-way and off Park Authority property. Active construction is anticipated to start in February and be complete by the end of March, weather permitting.
For more information contact Project Manager Yudhie Brownson at 703-324-8511.