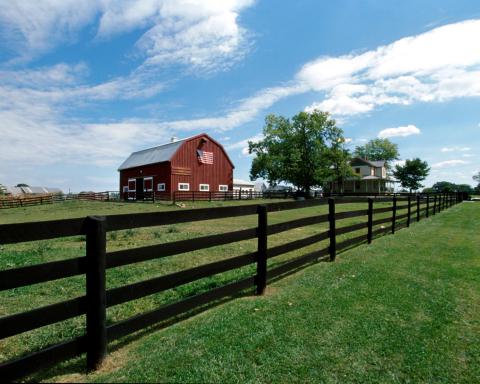 Frying Pan Farm Park has been honored for its outstanding land-use stewardship with the 2018 Fairfax County Clean Water Farm Award.
The Northern Virginia Soil & Water Conservation District (NVSWCD) selected Frying Pan for the award for its implementation of effective agricultural best management practices and diverse educational and outreach programs, as well as its close interactions with NVSWCD. The organization's board of directors and staff said they "whole-heartedly recognize the Frying Pan Farm Park operations as the deserving recipient" of this year's award.
A NVSWCD statement noted that for more than two decades, "…the management of both the Farm and Equine Operations of Frying Pan Farm Park has been relentless in their efforts to comply with Fairfax County's Chesapeake Bay Preservation Program, by maintaining and implementing the practices recommended in the district approved Soil and Water Quality Conservation Plan." The organization praised managers and staff who "work tirelessly to ensure that the entire operation is run and maintained in an exemplary manner."
Frying Pan Farm Park is one of the most popular parks in the county and preserves and interprets farm life of the 1920s to 1950s. It is located at 2739 West Ox Road, Herndon, VA. For more information, call 703-437-9101 or visit Frying Pan Farm Park.