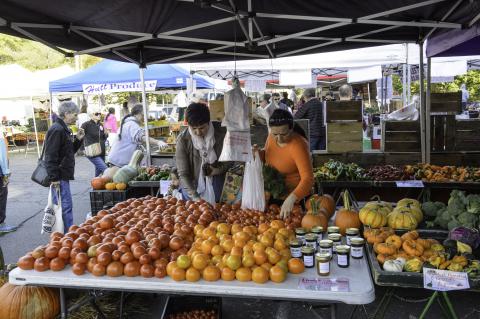 Are you ready to open your refrigerator to find fresh asparagus, rhubarb, salad greens, and strawberries? Stock your pantry with baked breads and honey? Are you ready to feast on local gourmet meats, cheeses, and ice cream? Have you ever planted seedlings from the farmers markets in your home garden?
The Wakefield, Herndon, Burke, and Reston Farmers Markets are opening in April providing a head start on the best epicurean discoveries this season. The other six Fairfax County Park Authority markets will roll in by the first week of May. Our markets are strictly producer-only, meaning that our vendors must grow or make from scratch everything they bring to market. This gives customers the unique opportunity to buy directly from the source.
Markets Starting in April:
Wakefield: Wednesdays, April 17 - October 30
8100 Braddock Rd, Annandale, VA
2 p.m. until 6 p.m.
Burke: Saturdays, April 13 - December 21
5671 Roberts Pkwy, Burke, VA
8 a.m. until noon
Herndon: Thursdays, April 18 - November 14
777 Lynn St, Herndon, VA
8 a.m. until 12:30 p.m.
Reston: Saturdays, April 20 - December 7
1609-A Washington Plaza N, Reston, VA
8 a.m. until noon
The Reston and Herndon Farmers Markets accepts SNAP benefits (formerly food stamps). The Lorton and McCutcheon/Mount Vernon Farmers Markets will accept SNAP benefits starting the first week of May. Currently all SNAP at Market purchases are matched up to $20 for additional fresh produce under the Virginia Fresh Match Program.
Look for us on Instagram on April 1 and don't forget to bring your reusable bag!
For more information, including locations, directions and a list of vendors at each market go to Farmers Markets or contact the Community Horticulture Office at 703-642-0128.