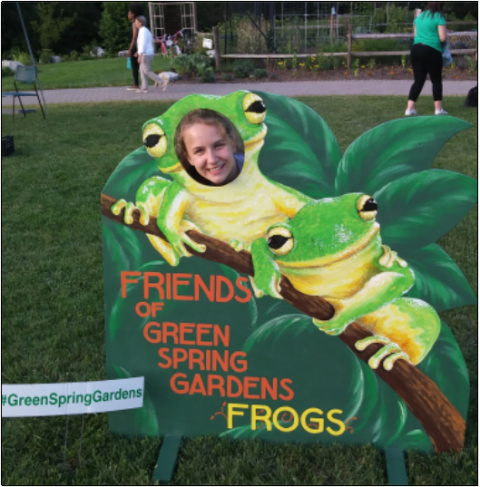 The Friends of Green Spring, known colloquially as FROGS, will be honored by the National Association of County Park and Recreation Officials (NACPRO) as an Outstanding Support Organization when NACPRO holds its annual awards banquet in June.
The NACPRO award is presented to "an organization that has responded in an exceptional manner by making a major contribution to benefit park and recreation programs or facilities," and FROGS is a 501(c)(3) membership organization that celebrated 25 years of service to the Fairfax County Park Authority (FCPA) in 2018.
With more than 1,500 members, FROGS offers financial, operational, programmatic, facility and volunteer support. Its major projects include the Garden Gate Plant Shop, Harry Allen Winter Lecture Series, art shows, glasshouse renovations, gazebo renovations, Historic House renovations, the Wheels Appeals (providing staff utility vehicles), and ongoing funding for summer interns and seasonal staff. Since 1993, FROGS donated more than $2 million to support the park.
"I am beyond thrilled for FROGS to receive such an honor and distinguished award. It reflects their passion, support and commitment to Green Spring Gardens and the Fairfax County Park Authority," said Green Spring Site Manager Nicole Mitchell Conners.
At its meeting in June, NACPRO also will honor the Park Authority's Resident Curator Program with a Historical/Cultural Facility Award. Laurel Hill Park trail maintenance volunteer Michael Applegate will be recognized in the Outstanding Volunteer category.
NACPRO is a non-profit professional organization that advances official policies that promote county and regional park and recreation issues while providing members with opportunities to network, exchange ideas and best practices, and enhance professional development.
For additional information, please contact the Public Information Office at 703-324-8662 or email Parkmail@fairfaxcounty.gov.