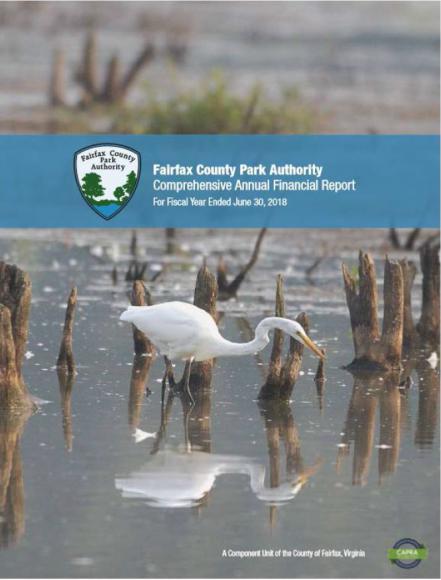 The Fairfax County Park Authority is the recipient of a 2018 Certificate of Achievement for Excellence in Financial Reporting, presenting by the Government Finance Officers Association. "This award is the highest recognition in government accounting and financial reporting, and its attainment represents a significant accomplishment," according to GFOA Director of Technical Services Michele Mark Levine.
The award is the result of a wide-ranging review of the Park Authority' s comprehensive annual financial report (CAFR). The CAFR was judged by an impartial panel to meet the high standards of the program which includes demonstrating a constructive "spirit of full disclosure" to clearly communicate its financial story. An additional award of Financial Reporting Achievement has been awarded to Senior Fiscal Administrator Janet Burns, and her team who prepare the reports and manage the Park Authority finances and budget.
"I am very proud of Janet and her team. This is very detailed work that must be accurate. Our finances are complex and require good leadership and understanding. Our finance team is a strong team with great skill," stated Park Authority Director Kirk Kincannon.
The Government Finance Officers Association is a major professional association serving the needs of over 20,000 appointed and elected local, state, and provincial-level government officials and other finance practitioners. The association is headquartered in Chicago, Illinois.