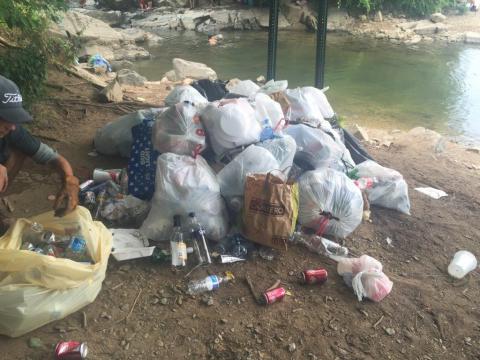 Fairfax County Parks have always been people and pet friendly. Please obey all laws, be aware of park rules and be "park friendly" this summer. That commitment translates into a safe and enjoyable visit for all and allows our parks and natural areas to thrive.
A new emphasis on appropriate behavior in parks and police enforcement at Scott's Run Nature Preserve in Great Falls, VA., is encouraging visitors to obey the law, and take park friendly actions when exploring this unique nature area. Smart choices and appropriate actions can make a huge difference in the preservation and enjoyment of parks. New signs at Scott's Run remind visitors to:
Stay on trails -- Staying on trails helps to minimize the impact on wildlife and plants, stop the spread of non-native invasive plants and keep the park looking beautiful.
Take only pictures and leave no trace – One negative action when multiplied by many visitors can damage the whole landscape. Help preserve parkland for future generations.
Keep dogs on leashes -- Leashed dogs stay on trails and don't disturb wildlife or spread non-native invasive plants. Some visitors are afraid of dogs -- even friendly dogs. And staying on a leash is safer for dogs because they won't get lost or injured in the park.
These are more than nice sentiments. They are laws and park rules that apply not only at Scott's Run but at parks throughout Fairfax County. Local police will be out in force to ensure that visitors obey all laws and have a safe visit.
Make this the summer to practice park friendly behavior at the county's 400+ parks.
For more information, contact the Public Information Office at 703-324-8662 or at parkmail@fairfaxcounty.gov.