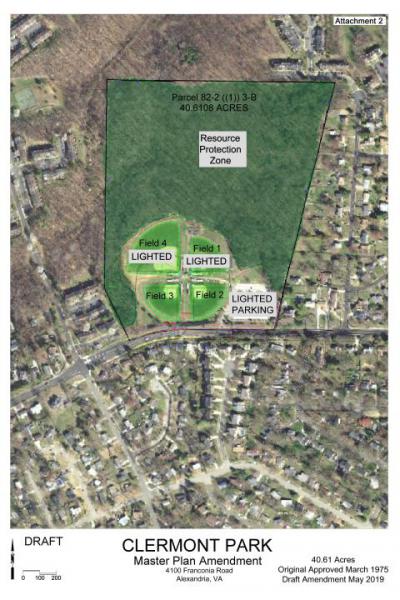 The Fairfax County Park Authority will begin a master plan revision at Clermont Park. This planning process will help guide the future of this well-loved park and includes the opportunity for public input. Members of the public are invited to attend a public information meeting held on Thursday, July 25, 2019 at 7 p.m. The meeting will be held in the Franconia Government Center, located at 6121 Franconia Road, Alexandria, VA.
The Park Authority will provide a background presentation, an overview of current conditions, and information about the park master planning process. The agency would like to gather input from residents and park users on adding lights on two diamond fields at Clermont Park, located at 4100 Franconia Road in Alexandria.
Clermont Park currently provides over 40 acres of playing fields, parking, trails, and forest. The park is in the Lee Supervisory District and is classified as a community park. Existing facilities provide opportunities for park users to practice; exercise; walk their dogs; and enjoy the outdoors. The park's key assets are its athletic fields, and open space.
Clermont Park's current master plan has guided the park's uses and development since it was approved in 1975. Since the original master plan was approved, usage of the park fields has grown as the county has developed. The volume of users currently exceeds current field capacity. Adding lighting would allow for additional field use on existing fields. A revised master plan will help Clermont Park continue to evolve to meet the needs and interests of county residents while ensuring protection of the park's important resources for future generations.
For more information, please visit the Clermont Park Master Plan Revision Project or contact the Public Information Office at 703-324-8662 or via Parkmail@fairfaxcounty.gov.