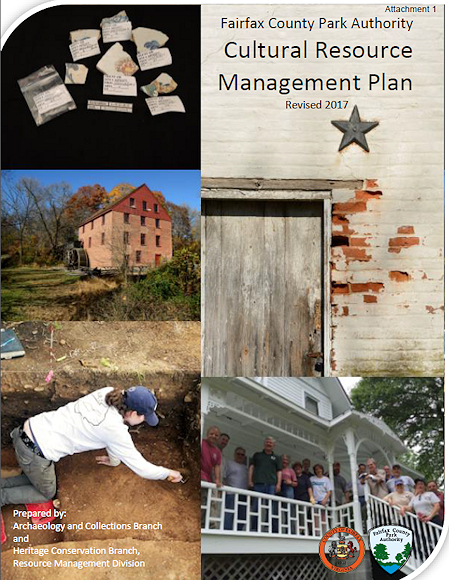 The Fairfax County Park Authority Board received updates on the agency's Cultural Resource Management Plan (CRNP) and Natural Resource Management Plan (NRMP) at its meeting on Wednesday, June 26, 2019.
Cultural Resources staff provided updates on the Resident Curator Program (RCP), noting that a second RCP lease was signed in Fiscal Year 2019 at Turner Farmhouse, and three additional properties were advertised for curatorship. The program, which allows curators to live rent-free in park properties in exchange for their work to rehabilitate the buildings, was honored in FY19 with an award from the National Association of County Park and Recreation Officials.
In addition, staff reported that numerous archaeological projects were completed at RCP sites and in support of Natural Resource projects at Sully Woodlands and Colchester. More than 160 development plan reviews were completed, staff conducted countywide archaeological studies in support of other agencies, and strides were made in stewardship education. Plans for FY20 include archaeological surveys at Riverbend Park, Mount Air and Mount Gilead prior to work at those sites. Staff will work on the 50th Anniversary Middle Atlantic Archaeology Conference, collaborate on a symposium on Historic Cemeteries, and conduct volunteer events at historic sites.
Natural Resources staff completed the fifth year of the NRMP adopted in 2014, including activities in all four management themes: Inventory and Planning, Protecting Natural Capital, Managing Wild Populations and Restoring Ecosystems, and Fostering Stewardship and Expanding Natural Capital. Work was accomplished on 23 of the 26 NRMP recommended actions.
Among the NRMP accomplishments: staff continued to populate the geodatabase model, finalize a new invasive vegetation management contract, start ecological restoration projects at five parks, complete the NRMP update for Huntley Meadows Park and start development of the West Area NRMP. Plans for FY20 include starting implementation of a Natural Area Preserve and a long-term bird banding study at Huntley Meadows Park, continuing work on the geodatabase model, implementing ecological restoration projects at approved parks, and finalizing an agency-wide list of potential mitigation sites.
For more information, contact the Public Information Office at 703-324-8662 or at parkmail@fairfaxcounty.gov.