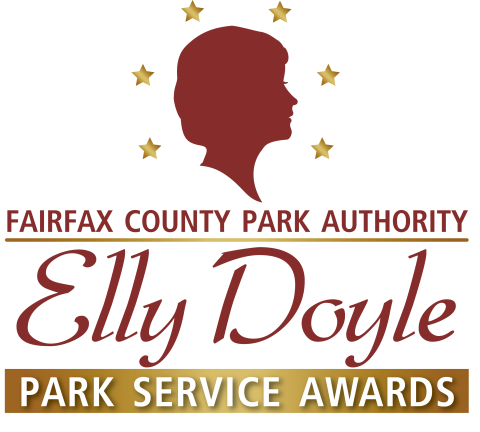 The Fairfax County Park Authority will honor six individuals and groups with 2019 Elly Doyle Special Recognition Awards at its annual volunteer celebration in November. These awards complement the three Elly Doyle Park Service award recipients announced last week.
The Elly Doyle Park Service Special Recognition Awards will go to:
Richard Eilers – Eilers has been an archaeological volunteer for more than eight years and has helped recover and process thousands of artifacts that will aid the Archaeology and Collections Branch in the interpretation and preservation of our county's history. He has worked as both a field and lab volunteer, and his help with systematic metal detection, site excavation and processing artifacts in the lab was described as "invaluable."
Tom Harkin -- Harkin is a true leader among the members of the Laurel Hill Volunteer Group whom other volunteers seek to emulate. In his award nomination, Harkin was described as "one of Laurel Hill's most poignant, accessible, friendly and dedicated volunteers" who has gone above and beyond in his volunteer responsibilities.
Stephen P. Johnson, Sr. -- As the Artistic Director and Emcee, as well as an advocate for the Frying Pan Farm Park Bluegrass Barn Concert Series, Johnson keeps his finger on the pulse of the Bluegrass world with an eye out for emerging talent, local groups and traveling performers to add to the series. His depth of Bluegrass knowledge and connections were described as "very hard to replicate."
Laurel Hill Park Volunteer Team (PVT) -- The Laurel Hill PVT was one of the first groups to work through the process of becoming a Park Volunteer Team and helped the Park Authority further define the PVT model. It has planned and implemented multiple workdays, engaging volunteers in activities ranging from invasive plant removal to trash clean-ups.
Traci Manuel -- Since joining the Burke Lake Golf Course as a volunteer two years ago, Manuel has become an invaluable member of the driving range staff and arrives at 6 a.m. every week to assist paid staff in range maintenance. She was described as "willing to tackle any task asked of her" and regularly initiates her own projects to enhance appearance and range operations.
Jennifer Bavisotto/National Charity League-Bluebells – The National Charity League is a mother/daughter philanthropy group that has been volunteering with the Park Authority for three years. It supports the parks with monthly watershed clean-ups and special events. Liaison Jennifer Bavisotto has organized multiple volunteer efforts and actively works to recruit new volunteers.
The Elly Doyle Park Service Award was established by the Park Authority in 1988 in recognition of former Park Authority Board Chairman and member Ellamae Doyle's years of outstanding service toward the preservation of parkland and establishment of natural and recreational areas for the benefit of Fairfax County residents. The purpose of the award is to publicly recognize a volunteer or group of volunteers for outstanding contributions to Fairfax County parks.
For more information, contact the Public Information Office at 703-324-8662 or at parkmail@fairfaxcounty.gov.