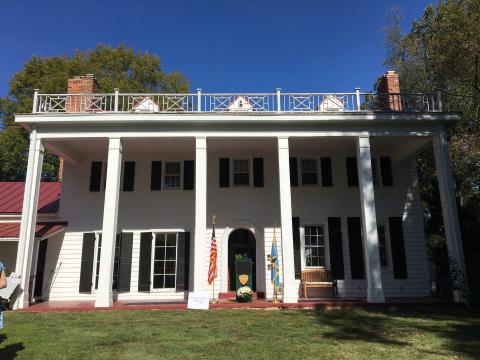 Tour one of the oldest homes in Fairfax County during the open house at Historic Oak Hill on Saturday, September 21, 2019.
Oak Hill is an 18th-century Fitzhugh family, Georgian-style mansion, and it is all that remains of the Ravensworth Tract that dates to the 1670s and once totaled more than 22,000 acres. Today, the mansion is privately owned but Fairfax County has protected it through an historic easement requiring that the property be open to the public one day a year.
This year's open house will be held from noon until 4 p.m. There will be a brief ceremony at 12:30 p.m. that celebrates the creation of the easement and those officials who ensured this property and the historic landscape would be preserved for generations to come. Before and after the ceremony visitors are invited to walk through a portion of the Oak Hill's first floor and stop by the exhibitor's tent which features information from a host of local organizations, as well as local authors and the chance to use a quill pen. The Annandale High School Culinary Arts Program will provide free refreshments as well.
Visitors will have an opportunity to enjoy living history performances by Jon Vrana, president of the Burke Historical Society as well as learn more about the house from Park Authority staff members. Stroll the grounds at Oak Hill to see some of the oak trees that gave the property its name and the original drive to the house, which is lined with protected boxwoods. Some of the trees and boxwoods are more than 220 years old.
Historic Oak Hill is located at 4716 Wakefield Chapel Road in Annandale, VA. Parking will be available offsite at 4414 Holborn Avenue at the Nancy Sprague Technology Center. Free shuttle bus service will provide visitors with convenient transportation to the open house.
This event is sponsored by the Fairfax County Board of Supervisors, the Fairfax County Park Authority, the Northern Virginia Conservation Trust and the Fairfax County Park Foundation.
For more information, please call the Public Information Office at 703-324-8662.