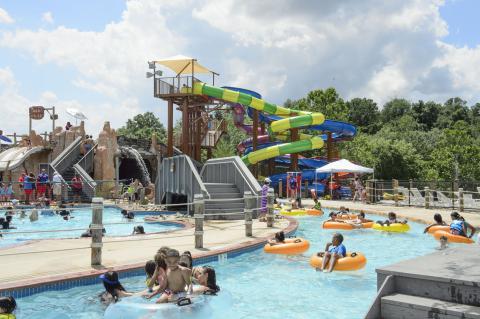 The Water Mine Family Swimmin' Hole at Fairfax County's Lake Fairfax Park has been named one of the Region's Best Waterparks by Washingtonian Magazine.
The August issue of the magazine made selections based on children's ages. It featured the Water Mine in the Big Kid category for children age 7 to 11. The magazine wrote, "Older children beeline for the three lengthy, winding water slides standing three stories tall. There's also a log walk, a lazy river, more slides, and a splash area for younger kids."
The Water Mine captures the excitement of the Old West's Gold Rush with themed attractions including more than an acre of slides, flumes, sprays, showers, floatables, and an interactive water playground. Kids can careen off covered wagons, float on wild animals, dash through showers tipped from water-filled ore carts, or float along the Rattlesnake River, a 725-foot lazy river. The centerpiece is Pete's Peak, a craggy mountain featuring water slides of various size and intensity. Hours and admission fees can be found at The Water Mine Family Swimmin' Hole.
Lake Fairfax Park is located at 1400 Lake Fairfax Drive, Reston, VA. For more information, call 703-471-5414 or visit Lake Fairfax Park.