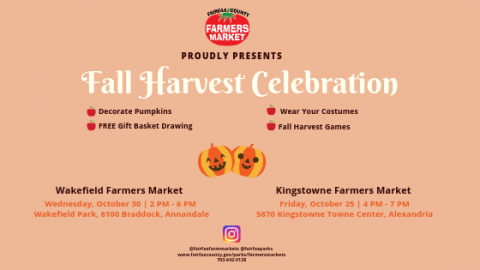 Join the Fairfax County Farmers Markets for the Fall Harvest Celebration at two market locations. During this time, our markets have the best of both worlds—the last of the summer harvest such as tomatoes, peppers, and peaches, and fall favorites such as butternut squash, greens, and pumpkins. Kids are invited to paint pumpkins, play fall harvest bingo, and show off their costumes. In celebration of the bountiful fall season, we will have a free gift basket drawing with generous donations from our vendors.
See the schedule below:
Friday, October 25
Kingstowne Farmers Market
In the Giant parking lot, 5870 Kingstowne Towne Center, Kingstowne, 4 until 7 p.m.
Friday, October 30
Wakefield Farmers Market
Wakefield Park, 8100 Braddock Road, Annandale, 2 until 6 p.m.
This activity is free and open to the public, but supplies are limited. Our markets are strictly producer-only meaning that our vendors must grow or make from scratch everything they bring to market. This gives customers the unique opportunity to ask farmers directly about their growing methods, animal welfare practices, and more.
View the Produce Chart for harvest times.
For more information, including locations, directions and a list of vendors at each market go to Farmers Markets, follow us on Instagram @fairfaxfarmmarkets, or contact the Community Horticulture Office at 703-642-0128.