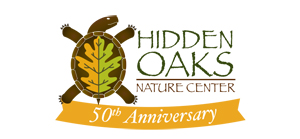 Fairfax County's first nature center will mark its 50th anniversary with a day of fun, music and special family-friendly activities on October 19, 2019. Hidden Oaks Nature Center in Annandale, Virginia, opened in 1969 and now serves more than 30,000 visitors a year.
Hidden Oaks' anniversary event has been designed with all ages in mind. Visitors will have an opportunity to go on a Hidden Treasures of Hidden Oaks scavenger hunt and see demonstrations of monarch butterfly tagging and release. There will be a Reptiles Alive presentation and music from the Vienna School of Rock, in honor of Woodstock's 50th year, as well as other children's music groups. A new chainsaw tree artwork will also be on display. The carving features images of animals that call the park their home. For a schedule and more information, please visit Hidden Oaks' 50th Anniversary.
This free program will run from 11 a.m. to 4 p.m. Parking will be available in Annandale Community Park at 4030 Hummer Road, except for those with special permit parking.
Hidden Oaks Nature Center is located at 7701 Royce Street, Annandale, VA. For more information, call 703-941-1065 or visit Hidden Oaks Nature Center.