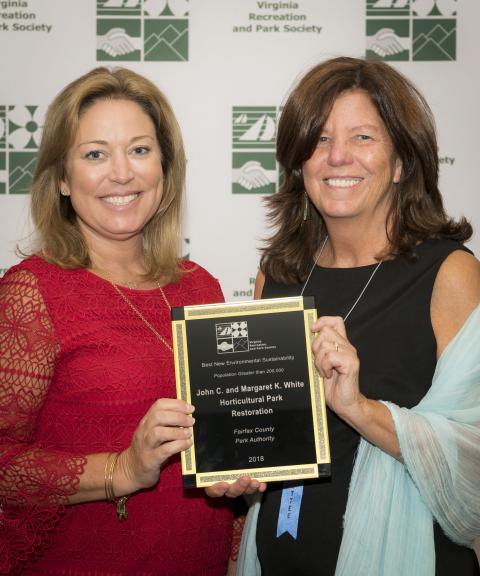 The Margaret K. White Horticultural Park Restoration project has been honored by the Virginia Recreation and Park Society as the Best New Environmental Sustainability project in a population area greater than 200,000. The award was presented this month at the organization's 64th Annual Conference in Tysons Corner, Virginia.
White Gardens is a 13.6-acre park in the heart of Falls Church, Virginia, that has noteworthy horticultural resources that were cultivated by one family throughout most of the 20th century. Due to the unique historic value of the natural, cultural, and horticultural resources on the property, Fairfax County Park Authority staff formed a cross-divisional project team to restore the property as part of the Helping Our Land Heal program. The project goals were to ecologically restore the park's grassland meadow area and to manage invasive species.
The ecological restoration efforts at White Gardens serve as a model for effectively and efficiently utilizing resources while helping to raise usage of the park. The project has helped enhance ecosystem services to the surrounding landscape, such as pollination and pollinator population support, wildlife habitat, and soil development. It is also helping to improve water and air quality in the Chesapeake Bay watershed.
The VRPS program honors individuals, departments and organizations throughout Virginia each year who have demonstrated excellence during the previous year in 14 different categories. Applications are judged by a jury of peers. The mission of VRPS is to unite all professionals, students, and interested lay persons engaged in the field of recreation, parks, and other leisure services in the Commonwealth of Virginia.
For more information, contact the Public Information Office at 703-324-8662 or at parkmail@fairfaxcounty.gov.