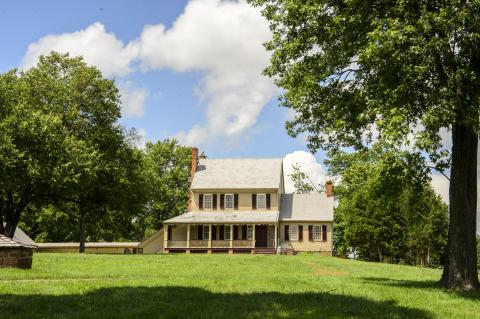 Come to Sully Historic Site this fall for history lectures served up with white wine. Each program in the series will offer a presentation by a distinguished speaker, followed by a question/answer session and a white wine reception.
The series kicks off on Saturday, October 12, 2019, with a program entitled "Richard Bland Lee, Northern Virginia's First Congressman: His Critical Role in Saving the Union in 1790." Delve into the drama and intrigue of politics in the 18th century. Kenneth Bowling will explore the political life of the original owner of the house at Sully and his political achievements in the First Federal Congress. Bowling is both Emeritus Professor of History at George Washington University and the co-editor of the Documentary History of the First Federal Congress, 22 volumes of documents that tell the story of the new Constitution. The program runs from 4 to 6 p.m.
On Saturday, November 9, come to Sully for "Ties that Bound: Founding First Ladies and Slaves." Maria Schwartz will be discussing her most recent book, "Ties that Bound," which is an exploration of the relationships between the first ladies and the enslaved people who served them. Schwartz is the Emeritus Professor of History at the University of Rhode Island and the author of multiple books on the history of enslaved individuals in America. Her most recent book goes beyond the image of first ladies as glamorous hostesses to shed light on the often-overlooked relationship they had with slaveholding culture in early America. The program runs from 4 to 6 p.m.
Lecture attendees must be over 21 to consume alcohol; non-alcoholic drinks will be available. Visitors are asked to respect a two-glass limit on wine. Limited seating is available and advance registration is required to reserve a seat for these programs. The cost of each program is $35 per person. Call 703-437-1794 to make a reservation, or book online at Sully Historic Site.
Guest speakers are sponsored by the Sully Foundation Ltd. Receptions are presented by the Fairfax County Park Authority.
For more information, contact the Public Information Office at 703-324-8662 or at parkmail@fairfaxcounty.gov.