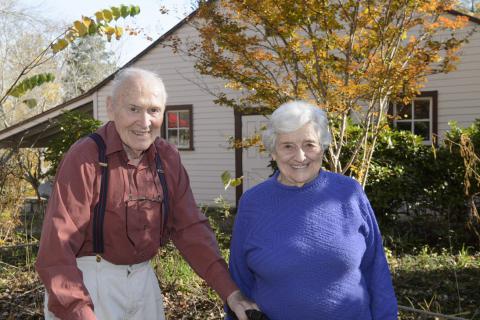 Members of the public are invited to a ceremony at Colvin Run Mill Historic Site on Saturday, October 26, 2019, as the park's barn is named in honor of Robert and Marjorie Lundegard.
The barn will officially be called the Marjorie and Robert J. Lundegard Education Center to recognize the couple's long-time advocacy for parks, education and history in Fairfax County, especially at Colvin Run Mill. The Lundegards spent much of their retirement time volunteering and spearheading preservation fundraising efforts at the mill, and after Mr. Lundegard's death in May, he was hailed as a park icon and a dedicated and visionary leader.
Marjorie Lundegard began volunteering at Colvin Run in 1988, and she and her husband were among the first members of the Friends of Colvin Run Mill when the support organization formed in 1997. As president of the group, Mr. Lundegard raised money for lights on the mill and for a portable mill for demonstrations. The Lundegards also raised funds for the mill through a partnership with a consignment shop in McLean and through Mrs. Lundegard's writing, publishing, and selling of more than a dozen books about mills in the region. Together they raised more than $50,000 to support Colvin Run Mill's capital improvements plan.
The barn naming ceremony begins at 11 a.m. and will include brief remarks, a ribbon-cutting, the unveiling of a plaque and light refreshments. The event is being co-sponsored by the Board of Supervisors, the Fairfax County Park Authority and the Friends of Colvin Run Mill.
Colvin Run Mill is located at 10017 Colvin Run Rd, Great Falls, VA. For more information about the site, call 703-759-2771 or visit Colvin Run Mill.
For more information about the ceremony, contact the Public Information Office at 703-324-8662 or at parkmail@fairfaxcounty.gov.