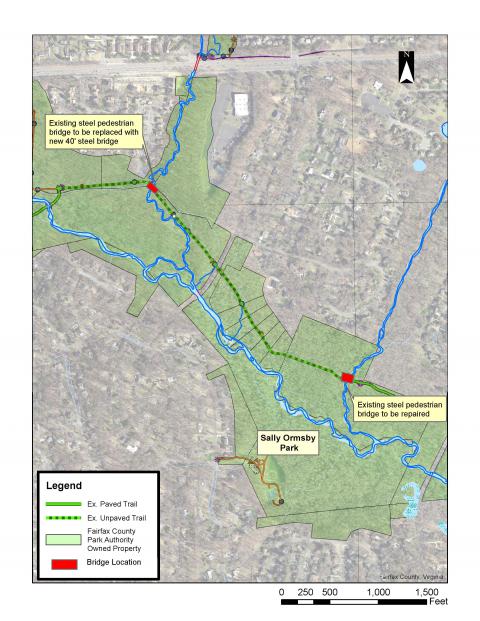 The Fairfax County Park Authority Board has approved the replacement of the Bear Branch pedestrian bridge and will repair the Long Branch Bridge at Sally Ormsby Park in Fairfax, Virginia. Action was taken at the Board meeting on October 9, 2019.
A structural engineer who examined the existing steel bridges at the park determined that the bridge over Long Branch could be repaired by welding plates around the deteriorating areas. Damage to the Bear Branch Bridge was extensive enough to require replacement. These steel bridges are the primary access for pedestrians to cross Bear Branch and Long Branch along the Sally Ormsby Park portion of the Gerry Connolly Cross County Trail.
The $150,000 project will include removal of the existing Bear Branch Bridge and installation of a new 40-foot prefabricated bridge with concrete approach ramps, as well as repair of Long Branch Bridge. Work at the park is expected to begin in August 2020.
Sally Ormsby Park is located at 3288 Barkley Drive in Fairfax, Va.
For more information, contact the Public Information Office at 703-324-8662 or at parkmail@fairfaxcounty.gov.