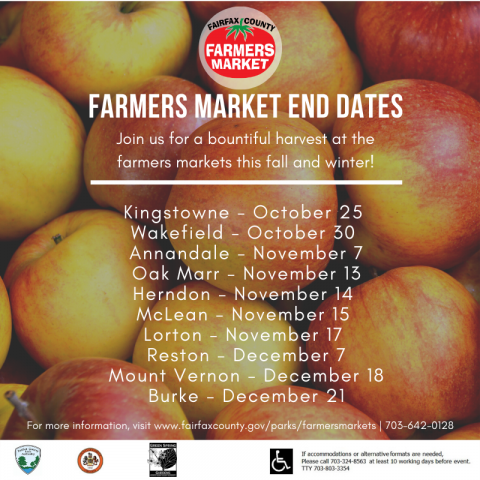 If you love local farmers markets, here is some great news! The Fairfax County Park Authority will extend the season at three farmers market locations; Burke, Reston, and McCutcheon/Mount Vernon Farmers Markets. Visit the McCutcheon/Mount Vernon Market on Wednesdays between 8 a.m. and noon until December 18, 2019. This market is located at Sherwood Library at 2501 Sherwood Hall Lane.
On Saturdays you can enjoy the Burke Market from 8 a.m. until noon through December 21. This market is found in the VRE parking lot at 5671 Roberts Parkway.
Also, on Saturdays, take advantage of the extended season until December 7 on Saturdays at the Reston Market located at the Lake anne Village Center, 1609-A Washington Plaza.
You can preorder fresh produce, meats, cheese, pies, and eggs for the holidays or stop by for fresh produce, bread, and honey. Rolling into markets right now in abundance of winter squash, greens, apples, potatoes, mix and match greens, carrots and more! Come and get it before it is gone! This is a great time to try out winter recipes such as butternut squash soup, carrot cake, or whip up something on the fly. Additionally, you can stock up on gifts such as honey, lip balm, and jams.
A holiday feast that includes fresh ingredients from the farmers markets is a great way to support local farmers and businesses. Our markets are strictly producer-only meaning that our vendors must grow or make from scratch everything they bring to the market. This gives customers the opportunity to ask farmers directly about their growing methods, animal welfare practices, and unique stories behind their products.
For information, including locations, directions and a list of vendors contact the Community Horticulture Office at 703-642-0128 or visit Farmers Markets.