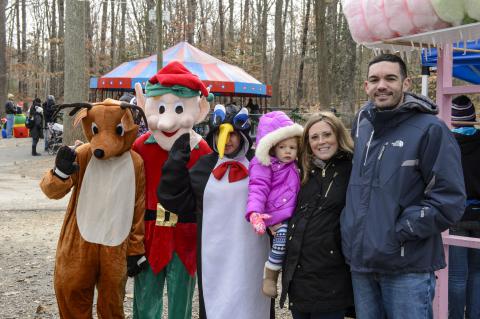 All aboard for the 2019 holiday season at Burke Lake Park! Enjoy holiday activities at Winter Wonderland during the day or take evening carousel and train rides as twinkling holiday lights transform the carousel and train into Celebration Station.
At Winter Wonderland, you can hop a train ride on the Holiday Express, take unlimited spins on the Carolers Carousel, play Gingerbread Man Golf or cook s'mores by the fire. Visit with Santa and enjoy hot chocolate or cider and candy canes. Winter Wonderland runs the first two weekends in December. All hours are noon to 5 p.m.:
Saturday, December 7 & Sunday, December 8
Saturday, December 14 & Sunday, December 15
Five-hour passes are $15 in advance and $20 on the event day. Passes can be picked up at the ice cream parlor on the day of the event. Children 10 and younger must be accompanied by an adult registered for the same ride package. Children younger than two can ride the train for free (on a parents' lap) but must pay for other activities. Winter Wonderland tickets are good for the date specified at the time of purchase only. Limited activity tickets will be available the day of the event at the park. The park will also be accepting new toys or canned food items for donation.
Register for Winter Wonderland
In the evenings, enjoy a magical train ride through a forest decorated with holiday-themed lights and scenes. Celebration Station runs the same weekends as Winter Wonderland, but will take place on Friday and Saturday evenings from 6 to 9 p.m.:
Friday, December 6 & Saturday, December 7
Friday, December 13 & Saturday, December 14
Celebration Station ticket are $10 each; trains depart every 20 minutes. Ticket holders receive one train ride, unlimited carousel rides and one cocoa or cider drink. Additional drinks may be purchased for $1 a cup. If seats are still available, tickets may be purchased at the train station on event day. Celebration Station tickets are good only for the date specified at time of purchase.
Register for Celebration Station
Tickets to the events will be refunded only if the events are canceled.
Burke Lake Park is located at 7315 Ox Road, Fairfax Station, VA. For more information, call 703-323-6600 or visit Burke Lake Park.