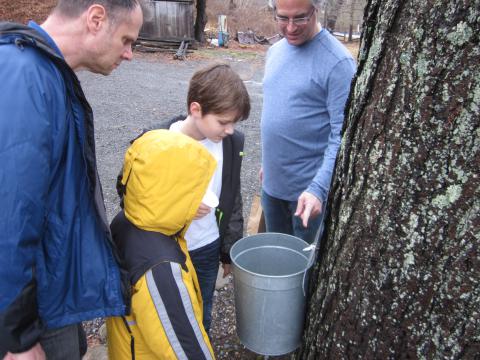 How does maple syrup get from the tree to your breakfast table? See the old-fashioned process from beginning to end at the "Maple Syrup Boil-Down at Colvin Run Mill."
When the sap starts to rise, the maple trees are tapped at Colvin Run and the drip, drip, drip begins. Now, it's sugaring time! Bundle up, watch and learn as sap is boiled down into sweet syrup over an outdoor, open fire. Sample the delicious maple syrup served over cornbread that's made from Colvin Run Mill's own cornmeal.
The program runs on three Sundays this winter – February 9, February 23 and March 1, 2020 – and the sap will be boiling from noon to 2 p.m. The cost is $8 per person. No reservations are required.
Colvin Run Mill is located at 10017 Colvin Run Rd, Great Falls, VA. For more information, call 703-759-2771 or visit Colvin Run Mill.