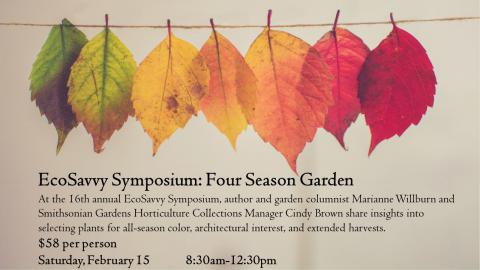 Discover ways to maintain an interesting garden year-round at the 16th annual "EcoSavvy Symposium" at Green Spring Gardens on Saturday, February 15, 2020.
This year, the topic will be: The Four Season Garden-Sensational Ornamental and Edibles All Year Long. Author and columnist Marianne Wilburn and Smithsonian Gardens Horticulture Collections Manager Cindy Brown will share ways to select plants for all-season color, architectural interest and extended harvests. This program for adults runs from 8:30 a.m. to 12:30 p.m. The cost is $58 per person.
Register for Eco-Savvy Symposium
Green Spring Gardens is located at 4603 Green Spring Road, Alexandria, VA. For more information, call 703-642-5173 or visit Green Spring Gardens.