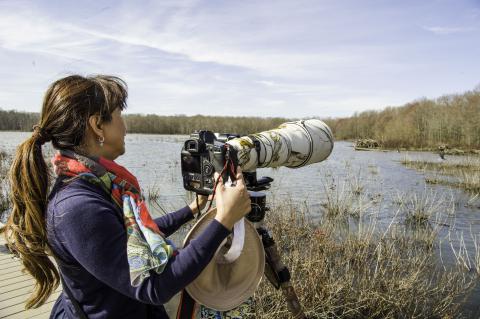 Huntley Meadows Park is a nature photographer's dream. Discover how you can capture its beauty with "Nature Photography At Dawn" on Sunday, March 22, 2020. 
Set your alarm and discover what awakens with the sun at Huntley Meadows. Learn how to use a DSLR camera and a tripod to capture images of the natural world during that special early morning light. See what wildlife is ready for its close-up. 
This class is designed for adult photographers at the beginner to intermediate skill level. Bring your own DSLR camera and a tripod, if you have one. The program runs from 6:30 to 9:30 a.m. 
The cost is $15 per person.
Register for Nature Photography at Dawn
Huntley Meadows Park is located at 3701 Lockheed Blvd., Alexandria, Virginia. 
For more information, call 703-768-2525 or visit Huntley Meadows Park.