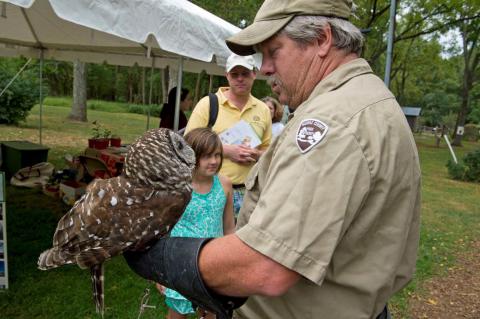 Meet local live owls up close and personal! Come to the "Festival of Owls" at Huntley Meadows Park on Saturday, March 14, 2020. 
Learn how these birds of the night live, hunt, and survive. Enjoy an owl presentation and demonstration. Touch real owl feathers and bones, dissect owl pellets and make an owl craft. Discover the things you can do to help protect these local raptors.  
The program at Huntley Meadows is designed for participants age four to adult. It runs from noon to 2 p.m., and the cost is $15 per person. There is an optional additional cost to purchase an owl pellet to dissect with the aid of a naturalist. Children must be accompanied by a registered adult. 
Huntley Meadows Park is located at 3701 Lockheed Blvd., Alexandria, Virginia. For more information, call 703-768-2525 or visit Huntley Meadows Parks.